River Frome Section to Lockham
---


The 0.6km section of river between Whitminster Lock and the site of Lockham Aqueduct is the product of a land drainage scheme carried out about 30 years ago.

At the time of closure, the Stroudwater Canal used to run in a separate channel to the river and crossed from the south side to the north side on a low aqueduct (or inverted syphon) at Lockham. Interestingly, early maps of the canal around the time of its construction show the canal and river channels combined and no such aqueduct.

The section of the Stroudwater Canal from Lockham to the G&S Canal was all owned by British Waterways following the 1954 Act but the ownership east of Whitminster Lock was lost at the time of the land drainage improvements. Mrs Teasdale is now the riparian owner.

The land drainage work essentially removed the strip of land between the canal and river and deposited it in the southern part of the canal channel. The result was a wider river channel comprising the original river and northern part of the canal channel. This channel should be wide enough to carry boats but its depth and channel profile will need to be confirmed and possibly improved.
It is known that the river depth at the footbridge at Lockham is about 1.4m onto rubble and it would be surprising if this part of the channel was any less.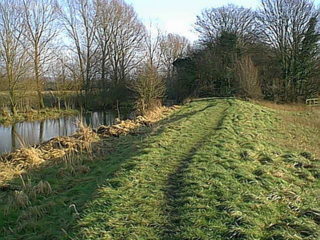 The River Frome as it enters the wooded section between Whitminster Lock and Lockham. Note the flood bank carrying the path. It is likely that the wood is the home of badgers and otters have also been seen in this area. Fortunately, it is probable that little or no construction work will be required in this are and any dredging would be needed from time to time to prevent flooding with or without navigation.






Back to Map 1