Kempsford                                                                    Back to T&S Canal Index
---
Kempsford is the only settlement of any size on the canal east of Cricklade. The canal company has a wharf here and it was also the place where a feeder entered the canal from the Colne which ran in an open channel from Welford nearly 2 miles away.


 The design of the wharf house at Kempsford is the same as  those located  to serve Cricklade and Cirencester. The  agent or wharfinger lived in the central section with storage  for the goods on either side and to the rear of the building.


 The Kempsford example has recently been renovated but  at some point in the past lost the part of the warehouse  space to the rear.

 In front of the wharf building there would have once been a  large canal basin and the main line of the canal was quite a  distance to the south (front) of the the building.
 


    Kempsford Wharfhouse 2002 (private property)

The road from Kempsford to Hannington used to cross the canal on an arched bridge and a swing bridge further east used to link the strip of land between the Canal and the River Thames with the village.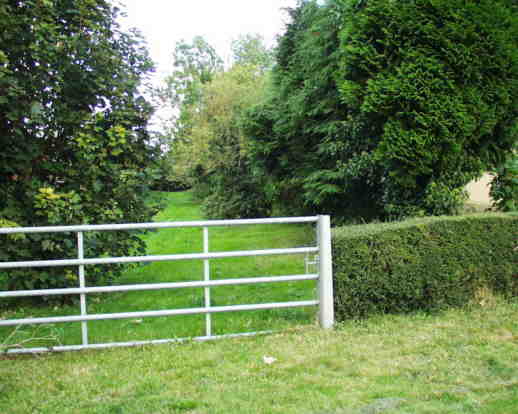 Views to the east and the west from the site of Kempsford Bridge in 2002

The canal is difficult to see and has been filled in on either side of the site of the road bridge. Elsewhere there has been encroachment by infill and gardens and it is doubtful that planning permission has been granted for some of this as the canal route is protected in Local Authority plans and has been for many years.

Even so, a substantial amount of the canal bed within Kempsford, sometimes with water in it, does survive but is not accessible to the public.